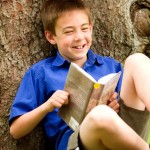 Have you curled up with a good book lately? As the school year moves forward, don't forget to read aloud to your children. And not just your little ones who haven't learned to read on their own yet. Reading experts note that reading to older children provides amazing benefits as well as providing opportunities for that sometimes hard to find snuggle time. Here are some titles to consider. Enjoy!
The Book Itch: Freedom, Truth & Harlem's Greatest Bookstore by Vaunda Micheaux Nelson, illustrated by R. Gregory Christie. Carolrhoda Books, 2015. In the 1930s, Lewis's dad, Lewis Michaux Sr., had an itch he needed to scratch—a book itch. How to scratch it? He started a bookstore in Harlem and named it the National Memorial African Bookstore, which became a place where all kinds of people came to read, talk, and buy books about African American history.
Cloud Tea Monkeys by Mal Peet, Elspeth Graham, illustrated by Juan Wijngaard. Candlewick Press, 2010. Transport your child to another place and another time — the gorgeous illustrations in this book capture the attention, and the story based on ancient legends. A young girl wants to help her family and receives help from a surprising source during her journey. 1st – 4th grades.
The Poet's Dog by Patricia MacLachlan. Katherine Tegen Books, 2016. This short novel tells the story of Teddy, a dog, who finds 11-year old boy Nicholas and his younger sister Flora who are stranded during a blizzard. A great story about loss, love and language for ages 6-11.
Bigmamas by Donald Crewes. Greenwillow Books, 1998. A nostalgic riff on visiting your country folks, heavy on the love, light on the mosquitoes. It's a dynamic tale of family togetherness.
Me and You and the Red Canoe by Jean E. Pendziwol, illustrated by Phil. Groundwood Books, 2017. The story of a perfect summer day on a lake. Vivid free-verse poetry with repetition that children ages 4-10 will love.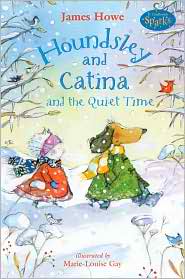 Houndsley and Catina and the Quiet Time by James Howe, illustrated by Marie-Louise Gay. Candlewick Press, 2008. Houndsley the dog and Catina the cat are best friends, but they have completely different priorities especially when the first snow of winter arrives. Houndsley is excited to be snowed in, but Catina is worried about not having enough to do. The characters are drawn in an inviting manner, and the learning to read story is perfect for K-3.
Never Take a Shark to the Dentist (and other things not to do) by Judi Barrett with art by John Nickle. Atheneum Books for Young Readers, 2008. Remember all the things you were told not to do when you were growing up? Well, this one has some absurd things you should never do like: "Never go shopping for shoes with a centipede." The illustrations are hilarious, and your child (and you!) will enjoy the humor. Simple text.
Stuart Little, Collector's Edition by E.B. White, illustrated by Garth Williams. HarperCollins Publishers, reprinted 1999. This is a larger print chapter book with impeccable illustrations and outstanding writing. This book works for younger children as well. Stuart's adventures prove irresistible to children of all ages.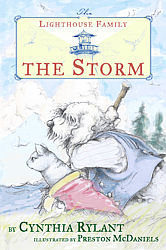 The Lighthouse Family: The Storm by Cynthia Rylant, illustrated by Preston McDaniels. Simon and Schuster 2002. You'll be glad you took a few minutes to become acquainted with Pandora, a tender-hearted cat who is a lighthouse keeper and Seabold, the dog she saves from a terrible storm. The two become friends and tend to the lighthouse, meeting all kinds of interesting characters who sail into their lives. The story flows smoothly and never talks down to the reader. The illustrations provide dramatic interludes to the text.
Poetry Speaks to Children, editor Elise Paschen. Sourcebooks 2005. Finally a poetry book that proves irresistible to children of all ages … and adults! The editors have compiled 98 poems with fascinating illustrations for readers to flip through. But they have also included a CD with 69 poems read by their authors including Robert Frost, Nikki Giovanni, Roald Dahl and others. Hearing the poems read aloud can be fun and actually a bit mesmerizing.
14 Cows for America by Carmen Agra Deedy, illustrated by Thomas Gonalez. Peachtree Publishers, 2009. This non-fiction title shares the emotions of loss and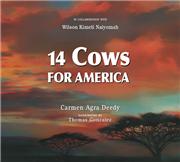 sadness associated with the 9/11 tragedy and highlights one group's compassion and desire to make a difference. Destined to be thought-provoking and heart-warming all at the same time.
My Family Plays Music by Judy Cox, illustrated by Elbrite Brown. Holiday House, 2005. This charming book about a family of music makers explores ten genres of music while a young girl introduces the members of her extended a family. A great choice for your music-loving children!

George Washington's Cows by David Small. Farrar Straus Giroux, 1994. This rhyming book is as much fun for adults as it is for kids. Washington's cows live upstairs with a life of luxury before they will give milk. His hogs are genteel and serve food when the servants are sick. His sheep are quite learned and give lectures on oceans while wearing academic gowns and mortarboards. The illustrations are amusing with lots of details. The humor is a hit!
What has your family been reading lately?