This is the time to enjoy the color and fun of Easter books with your children.  Try these titles out with your kids, and email us your favorites so we can add them to the list!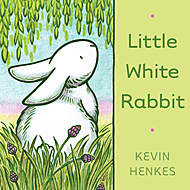 Little White Rabbit by Kevin Henkes. Greenwillow Books, 2011. This gentle book is perfect for the preschool crowd as a little white rabbit seeks out adventure and finds all kinds of new things to wonder about.
The Easter Egg by Jan Brett.  G.P. Putnam and Sons, 2010. It's all here in Brett's inimitable style: amazing illustrations with lots of details to spend time looking at and a gentle story about a rabbit wanting to decorate a winning egg. Preschool and up.
Duck & Goose Colors by Tad Hills. Schwartz & Wade, 2015. As you get ready to color eggs, why not read this adorable board book for toddlers?!
Fancy Nancy's Elegant Easter based on the creation of Jane O'Connor and Robin Preiss. Glasser.  HarperFestival, 2010.  Nancy throws a fabulous and fancy Easter party with lots of decorating plans.
A Very Special Easter by John & Wendy.  This board book is perfect for beginning readers, too, with easy to follow words and a gentle plot.  Price Stern Sloan, 2010.
Easter Surprises by Lola Schaefer, illustrated by Lisa McCue. Simon and Schuster, 2009.  This "pull the tabs" board book for toddlers and preschoolers is full of colorful eggs and different animals who come to play.  Lisa McCue's illustrations are bright and cheerful.
Bunnies' ABC by Golden Books, illustrated by Garth Williams. Little Golden Books, 2015. The perfect ABC book where bunnies frolic and introduce letters.
Ten Little Easter Eggs by Lily Karr, illustrated by P. Migliari. Scholastic, 2009. This counting board book sports sparkles and baby chicks, lambs and bunnies.  Sweet!
Hopper's Easter Surprise Kathrin Siegenthaler, illustrated by Marcus Pfister. North-South Books, 2009. This board book has a more advanced story with an Arctic hare wondering why he is all white with a blue tip on his ear and the Easter Bunny is brown.
Easter Egg Hunt by Margaret Wang, illustrated by Richard Johnson. Piggy Toes Press, 2005. Look for the Easter eggs hidden in this book.  There are pull-out tabs with colorful Easter eggs and more surprises.
Looking for Easter by Dori Chaconas, illustrated by Margie Moore. Albert Whitman and Company, 2008. Little Bunny is wondering what Easter is all about.  Each of his friends has a different idea and helps him along his journey.  Ages 2 – 5.
Ernest's First Easter by Paivi Stalder, illustrated by Frauke Weldin. North-South Books, 2009. This storybook has amazing illustrations, and the storyline is unique and fun.  Ernest is hiding eggs for his very first time as a helper Easter bunny, and he's not sure what spots have already been taken.  Fred, the family golden retriever, helps him out.  Preschool and up.
Submitted by Series Editor Julie Kaiser.