Thanks to Sarah Chandler for sharing her family's tips for making the family bike ride a success!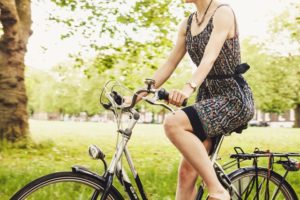 The scenery in and around Springfield certainly has changed in the years since I was a child. Riding a bicycle was largely confined to neighborhood streets to give a kid a bit of freedom on two wheels. Now there are several bike trails with some stretches continuing on for 6 miles.
In my family of four, we love to get out for a bike ride. Even when your kids are young, and your rides are not very long, you can have fun just the same. To help make our bike rides successful, we do a few different things…
Water bottles: Have one for each rider. Not only does it ensure that you have enough drinking water, but the kids will love being just like mom and dad.
Weather: Check the weather before you ride. This may not seem like a big deal, but if it is too hot or too windy, children will tire quickly from pedaling.
Mechanics: Before packing up the bicycles, make sure all of the tires have air, seats are tight, and everyone has a helmet. All riders should also have sneakers on to protect feet in case of a fall. Safety first!
Snacks: Invariably someone will always be hungry during even the shortest bike ride. Having an adult in the group carry a small pack works great as a mobile snack center. Carrying toilet paper or tissue in this pack is also a good idea in case someone needs to "go."
Expectations: Have reasonable expectations of your little riders before you go out. The age and experience level of your cyclists will determine the length of your ride. My children ride a couple of times a week in the neighborhood and on a recent family ride on the Interurban Trail, we rode 4 miles…2 miles out and 2 miles back.
Rest breaks: If the riders need to stop for a minute to rest their little legs, by all means, let them. Or if there is an interesting lookout on a bridge, take a moment to explore. Racing through a family ride may mean you miss some of the sights and discoveries along the way.
Descriptions of our local trails can be found on the Springfield Moms website in our Bike Trails Directory in our A-Z Resource Index: Happy riding!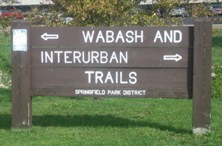 Springfield Moms contributor Sarah Chandler is a Springfield native, wife to Jeff, and mom to Levi and Anne. She loves to be outdoors during all seasons and enjoys relaxing indoors by creating quilts and scrapbooking.