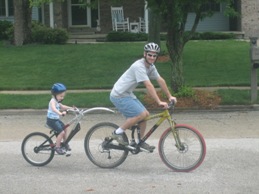 Thanks to
Sarah Chandler
for sharing her family's tips for making the family bike ride a success! The scenery in and around Springfield certainly has changed in the 25 years since I was a child. Riding a bicycle was largely confined to neighborhood streets to give a kid a bit of freedom on two wheels. Now there are several bike trails with some stretches continuing on for 6 miles. In my family of four, we love to get out for a bike ride. Our 6-year-old rides his two-wheeler while our 4-year-old is on a one-wheel tag-along bike behind my husband. Because the kids are young, our rides are not very long, but we have fun just the same. Autumn is a wonderful time to ride as the heat is beginning to dissipate. To help make our bike rides successful, we do a few different things…
Water bottles: Have one for each rider. Not only does it ensure that you have enough drinking water, but the kids will love being just like mom and dad.
Weather: Check the weather before you ride. This may not seem like a big deal, but if it is too hot or too windy, children will tire quickly from pedaling.
Mechanics: Before packing up the bicycles, make sure all of the tires have air, seats are tight, and everyone has a helmet. All riders should also have sneakers on to protect feet in case of a fall. Safety first!
Snacks: Invariably someone will always be hungry during even the shortest bike ride. Having an adult in the group carry a small pack works great as a mobile snack center. Carrying toilet paper or tissue in this pack is also a good idea in case someone needs to "go."
Expectations: Have reasonable expectations of your little riders before you go out. The age and experience level of your cyclists will determine the length of your ride. My children ride a couple of times a week in the neighborhood and on a recent family ride on the Interurban Trail, we rode 4 miles…2 miles out and 2 miles back.
Rest breaks: If the riders need to stop for a minute to rest their little legs, by all means, let them. Or if there is an interesting lookout on a bridge, take a moment to explore. Racing through a family ride may mean you miss some of the sights and discoveries along the way.
Descriptions of our local trails can be found on the Springfield Moms website in our
A-Z Resource Index
:  Happy riding!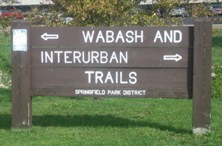 Springfield Moms contributor
Sarah Chandler
is a Springfield native, wife to Jeff, and mom to Levi and Anne. She loves to be outdoors during all seasons and enjoys relaxing indoors by creating quilts and scrapbooking.