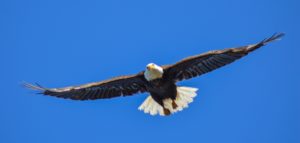 Every winter, more than 3,000 bald eagles visit Illinois. Our state has more wintering American bald eagles than in any other state outside Alaska. The eagles typically are spotted in Illinois in December through March.
Plan a road trip for your family! January and February are the optimal time for visitors to see eagles.
We've collected opportunities for eagle viewing this winter. Gather up the family, binoculars and a tank full of gas and EXPLORE!