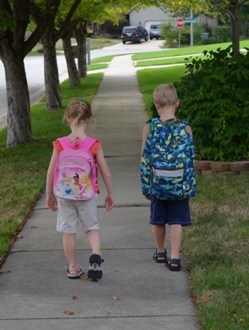 Thanks to contributor Sarah Chandler who answers this question for us: Kids in school, what is mom to do?!
This school year, my son is in 1st grade and my daughter is in a 4/5 year-old preschool class. While I have a little more child free time (6.5 hours a week) I should be able to conquer all of my tasks quicker and better, right? My kitchen will be cleaner, the laundry done at lightning speed, not a trace of dog hair to be found, all while a nutritious meal bubbles in the Crockpot. It may look good on paper, but as I found out last year, my first year experiencing these child free hours, trying to do too much can leave a person stressed and burned out. To combat this desire to get everything checked off my to-do list while the children are in school, I have taken some notes from my mom friends to hopefully keep myself a little more balanced.
"Take the day off": By the time our children do make it to school, we parents are often tired and frazzled after getting them ready to actually go to school. We painstakingly comb our way through the school supply isles, check and double check to make sure they have enough clothes to make it through a week, and then wonder if we've missed something. This year, instead of starting my at home projects the second after I deliver Anne to preschool, I'm going to take a few mornings off to prepare myself mentally for the long school year ahead.
"I am only one woman!" I picked this saying up from my own mother who often says it my children when they are asking for a dozen things all at once. And she is right—I am only one woman who can only do so much at one time. It comes down to teaching my children patience when needing something and patience in myself that the important things will get taken care of all in due time.
"A moment of solitude is priceless." This idea really resonated with me when I read it in local author Mary Byers' book entitled The Mother Load: How to Meet Your Own Needs While Caring for Your Family. Mary writes, "…in the past, my idea of solitude was simply the ability to work alone without the "help" of a two-year-old…solitude is meant to be so much more than an opportunity to get things done. It is about the beauty of silence and how it touches our soul. It is in our quiet times that we are able to concentrate on what's important. In so doing, we are able to simplify life, regain focus, and gather the energy necessary to continue along life's path."
"Exercise is the ultimate stress relief." When walking with my pediatrician friend Karin, she asked if I was exercising on a regular basis. My migraines had kicked up again and I was pretty tired. Reluctantly I said no, and with that she suggested I try getting out a few mornings for a walk or run. I grew up participating in athletics and when my children were born, I had gotten away from regular exercise. Now, the release of tension I get when I do exercise is something that I make time for about 3 days a week. And when both children are in school, I have plenty of time to stretch, exercise and properly recover.
"The 30 minute rule" If there is a morning where I need to run a bunch of errands, I "run" up until 30 minutes before I go to pick up my daughter. This rule allows me to slow down, grab a snack, and regroup before I'm back on "active mom duty." It is amazing how much better I relate to my 4-year-old when I'm not still operating in my fastest gear.
Taking care of ourselves can be tricky when we are needed by our families during busy days. But if we carve out time to recharge and reflect on a weekly basis, life will be that much more full and fun. Best wishes as you embark upon a new school year!
Submitted by Springfield Moms contributor Sarah Chandler. Sarah is a Springfield native, wife to Jeff and mom to Levi and Anne. She loves to spend time outdoors biking, hiking, skiing and playing golf. When she needs a break, you'll find her in the purple painted walls of her craft room writing, creating quilts, swaddle blankets and scrapbooks.