Special thanks to our readers who contributed Back to School tips.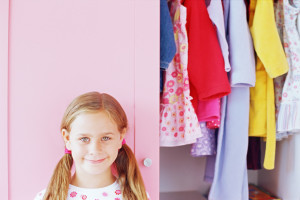 "My husband and I both work full-time and have very little time for delays in the morning. On Sundays, I try to plan my daughter's wardrobe by helping her select outfits for the week, and then we have a countdown to Friday. This definitely helps her feel more independent and avoids scrambling in the morning to find something to wear. Plus, we learn the days of the week and practice counting backwards by eliminating one outfit." Teresa Gathard.
"Buy up extra school supplies while they are on sale before school starts. School teachers will send notes home (this happens every year) that the kids need crayons, pencils, paper or whatever and you will not get them at such low prices again until next school year!  With 4 kids always needing school supplies throughout the year, this saves us a lot of money!" Susan Caimi.
"Michele Fahey (below) mentioned a wish list. I make a wish list with Wishlings every school season, and I let my kids participate in making it. They get items from the wish list if they're good and do their chores on time :)" Jo Brandon.
"Every year before school starts, we make a point to visit the school. It is a nice way to get them visually prepared. Before my girls started Kindergarten, we went to the school grounds to just walk around to get familiar with everything. When we started in a new school, I asked to principal for a tour of the building. He very graciously took the time to answer every question my daughters had and give us the grand tour. Our bigger tradition, however, is an appointment to get a manicure and/or pedicure before going out to lunch the last weekday before school starts. We enjoy the girl time and it makes them feel special. It helps them look forward to the first day of school. It doesn't have to be a trip to the spa, the idea is a tradition they can look forward to." Liane Hergenrother.

"For a couple weeks before school starts back up, we dedicate

an hour a day

to refresh the math, reading, and writing skills. This helps our son get back into the swing of things!" Amy M. Boley.

"A week before school is set to begin, begin easing your children into their bedtime and wake-up time that will be routine for the school year. It will help them get focused on starting school and help them to be prepared and alert that all important first day!" Amanda Clark.
"We plan a special dinner out before school starts to talk about the new school routine, rules for the school year, expectations for behavior and homework and anything else our student wants to discuss. We try to listen as much as we talk and write down the high points so that we are all on the same page." Julie Kaiser.
"We plan for this date a month in advance. We get back on the sleeping schedule. Pick up school supplies and clothes. Talk about the next year and what they will be doing during this school year (i.e sports, activities, things they will be learning in the classroom). Also, it is a good idea to have everything prepared the night before and set out (i.e clothes, shoes, baths, lunches, and breakfast). This makes the morning go much smoother." Megan Wells.
"I do as much of my back to school shopping at CVS. CVS has various back to school supplies FREE after Easy Care Bucks (their reward program). It works this way: gather all the back to school items that are FREE after ECB that week into your cart. Check out as usual and be sure to use your CVS customer card. After paying for the items, ECBs will print off at the bottom of your receipt for the same amount that you paid. The ECBs can be used just like cash on your next purchase. So the next week, you can gather that weeks FREE after ECB back to school items and pay using your ECBs from the week before. More ECBs will print out for the new items that you purchased. You can continue 'rolling' your ECBs each week by purchasing only those items that qualify (see weekly CVS ad)." Angela Wiser.
"First and foremost, I always have my children practice waking up early in the morning to get them back in the routine for school at least 2 weeks before their first day of school, and make them eat a good breakfast, that way they are not exhausted the first week (s) of school. Also, even though it is hard, I keep all assignments from the year and every night, pick one thing out and go over it, that way everything they learned is still fresh in their memory. Also, if you are able to, it's really nice to scan all documents your child receives and create a folder for each grade, which is not only great for learning but a great way to keep all of your child's projects without taking up a bunch of space. My children love to see their old projects! And last, my general rule of thumb before bedtime during the school year is an hour before bed there is absolutely no television on in the house (including grown-ups). This helps your child unwind and relax without any noise. Most people don't realize that children are around noise all day long, and even though they may act not act like it , they really need some quality quiet time. It works well for the parents too! Before we know it school will be right around the corner!" Jitonna Kain.
"August is always a difficult month for us. It is hot, and the kids are excited about school and frankly getting a little bored at home. To keep the month of August moving and exciting, we start shopping for their school supplies.  I put their backpacks in the dining room, and every few days we go shopping for a couple school supplies. They have fun watching their backpack fill up and they get the excitement of getting something new every few days. The biggest obstacle we have is getting them back to their school routine. Beginning August 1, we start to move the kids' bedtime up 1/2 hour per week and their wake up time up 1/2 hour earlier. The goal is by the start of school, we will be back to our school time schedule. I also change the kids' lunchtime schedule to match their lunch time at school, and we don't have snacks until 3:00. The final thing we do is make a wish list of items we wanted to accomplish during the summer but didn't. As a reward for going to bed early, each week the kids get to pick one thing from their wish list to do. For example, Go to Knights Action Park, go to a drive in movie – – – something to celebrate the summer and the start of the school year." Michele Fahey.
"I have a great 'back to school' tip for a kindergartener who is apprehensive about or has never ridden the bus to school. Make a posterboard with a chart with boxes for the days of the week on it for Monday through Friday. Let your child go with you to the store to pick out which stickers he or she would like to use. Let the child help you decorate the chart/posterboard. We drew a bus (or if you can't draw…use the internet and use clipart) with just a picture of my son's head in the window of the bus and put his bus number on the bus so he could remember it. Each day that he came home from school we made a big deal about how great he did on the bus. At the end of the week, we gave him a small prize to pick out to let him know that he did such a great job on the bus and that he was such a big boy for getting on there all by himself! I let him help decorate the posterboard and we did the whole thing together so he was excited about riding the bus. It took one day of apprehension and then every day after was smooth sailing!!" Tammy Guy.
Even if you don't yet have school-aged children, you can take advantage of back to school sales. "I use this exact program from CVS to buy 'school supplies' for home projects. It is a great way to have these things on hand to entertain on a rainy or cold day without spending a fortune. I also use their free milk program. Buy 5 gallons, and the 6th is free. They keep track for you each time you swipe your card." Karin Clark.