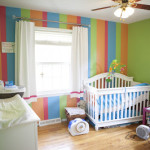 When I was pregnant with my son Connor, I searched diligently for a bedding set or themed décor for his new bedroom. What I wanted was something bright and fun, but all I seemed to find was blues and browns. So I decided we could create our own "theme" without a bedding set or specific wall décor to go from, and in the process, realized that we put together a very cute nursery on a fairly small budget.
Then, when we had Brenna, she inherited Connor's room. We had a new challenge! Minimize change but add some "girly" features!
Creating a beautiful space for your new baby doesn't have to mean shelling out big bucks. With a little creativity, you can easily put together any kind of nursery that you have your heart set on.
Decor
Most bedding sets that are for sale include numerous items, and some you don't even need! Experts warn to keep things like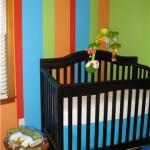 comforters out of the crib because of safety concerns, and many parents even opt not to use bumpers for similar reasons. Bedding sets can run you hundreds of dollars into the hole, but buying a cute sheet set with a crib skirt is very inexpensive.
The same goes for many of the accessories that accompany bedding sets. For example, hanging diaper caddies are certainly adorable, but really not necessary; simply use a basket or storage container to keep diapers, wipes and ointment in. It's cute, functional and you will get years of use out of it long after baby is out of diapers.
If you want to spend your money wisely on a nursery, try to avoid décor that is too "baby-ish." By using a more neutral theme or color scheme, you won't feel like you need to change the entire room when your son is more interested in baseballs than Winnie the Pooh.
To save money, it is also a great move to do-it-yourself when it comes to décor and the nursery. There are tons of different projects you can do to provide wall art for the nursery, and if you're not feeling particularly inspired, you can always browse a site like Etsy for ideas.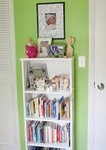 Furniture
Furniture isn't cheap, and I definitely recommend buying a good crib. One great option is a convertible crib, which converts from a crib, to a toddler bed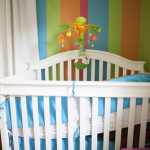 to a full-size bed. Or if you'd like to use the same crib for all of your kids, you can find some high quality cribs for a good price by shopping around. Don't forget to compare prices online; if you find a brand you like in a store, you might just be able to get it less expensively online.
Changing tables, on the other hand, are – in my opinion – not really very necessary, not to mention they are not easily used re-purposed. Buying a nice dresser and placing a changing pad on top is a smart choice. You could even re-purpose an old dresser or dining buffet table into a changing table. And between a convertible crib and a dresser, you can use the same furniture for your kid until she leaves for college!
Rockers and gliders are also another hot nursery furniture item, and they aren't cheap. Shopping around, again, will net you the best price for the piece you want. And another great option is to buy a small recliner to use as a rocker, which can then be used in the living room or basement a few years down the road.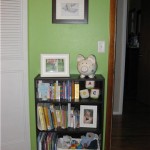 Don't forget to check thrift stores, second-hand shops and garage sales for many nursery items that you can easily use as is, re-purpose or fix up. Everything from unique wall art to charming old bookcases are out there waiting for a new home!
However, even though you want to cut down on the amount of money you spend for nursery items, I also advise you to be smart about it. Read online reviews about furniture and other items. The last thing you need to do is buy something that is so cheap that it won't even last you through the first baby, leaving you to buy another one of those items again and defeating the purpose of trying to save yourself money!
Transitioning Your Nursery for Your New Baby
When we found out we were expecting a girl, we kept most of the room the same for Brenna, except for painting the red stripes pink and ge
tting new white furniture. You can see the way the bookshelf and crib have been transformed simply by adding a fresh coat of white paint. My mom also made new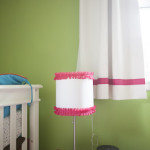 curtains with a pink stripe on them. I got my craft on…I hot-glued the bright pink ribbon around the top and bottom of a plain white lamp. I love how it turned out.
Submitted by Springfield Moms contributor Courtney Westlake who is mom to Connor, Brenna and wife to Evan.