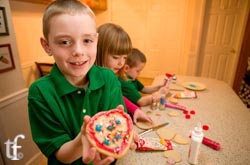 AllergyKids Another Mom with a Mission: Robyn O'Brien launched AllergyKids on Mother's Day 2006 after her fourth child was diagnosed with food allergies. She has received encouragement from Robert F. Kennedy, Jr., Erin Brockovich and parents from around the world. Robyn believes that AllergyKids directly impacts the well-being and livelihood of children and their families by creating universal awareness of food allergies, educating the population about the severity of food allergies and the important role that diet can play in healing these children.
She has designed a universal symbol to identify children with food allergies. She now puts the icon, a green stop sign with an exclamation point, on lunch bags, stickers and even the little charms children use to dress up their Crocs. Buy these products and others on her Web site: www.AllergyKids.com.
Food Allergy Tips from Springfield Moms readers: "I am sure you have all noticed the amount of articles recently regarding children with food allergies. For so long, I thought what a hassle for those parents! Well now, I am one of them. My younger daughter is highly allergic to eggs and peanuts. We don't have a family history; in fact they are some of our favorite foods! Well, once you find your daughter breaking out with just a tiny bite of peanut butter; you look at peanuts as your enemy. You become a vigilant label reader. You carry checklists of other names for peanut and egg.
Thankfully, as of January 1, 2006, all foods manufactured must clearly state if the food contains any element of the following eight foods which comprise 90% of all food allergies in the USA. The allergens to be listed are tree nuts, milk, eggs, fish, crustacean shellfish, peanuts, soybeans and wheat. At our house we've had to change our habits.
I now get to be one a slightly paranoid mom who scans treats at parties, playdates and school to make sure nothing dangerous is within reach to my child. Family events, restaurants, everywhere-is there peanut oil in that? Is that made with eggs? The benefit of this new occurrence is that it has forced me to take a good look at what I am serving our children. We eat much more homemade food so we know what ingredients are in there; and we've discovered egg replacer, which we use in some recipes. We bring our own snacks and homemade treats in a bag to munch on. Please share your good tips!"   Submitted by Kim Leistner.
Terrific cookbook for "free-food" kids! Thanks to for this great cookbook recommendation for any "free-food" kids. Leslie Hammond & Lynne Rominger have written "The Kid-Friendly Food Allergy Cookbook" which includes more than 150 recipes that are Wheat Free, Nut-Free, Gluten-Free, Egg-Free, Dairy-Free, and Low in Sugar. In addition to the simple recipes, they have shopping tips, brand recommendations and many substitution and variation tips in the recipes.
Here is an example of a dip that our kids have enjoyed (adults too).
Submitted by Springfield Moms reader Audrie Haag.
Cheesy Yum Dip Serves 4
3 ounces cream cheese
½ cup shredded cheddar cheese
¼ cup chunky mild salsa (optional)
2 tablespoons milk
Combine cream cheese and cheddar cheese in a small saucepan; stir over low heat until melted. Stir in salsa and milk. Heat thoroughly, stirring occasionally. Transfer to bowl and serve with chips, veggies, or use as a topping for noodles or baked potatoes. Dairy-free alternative: use soy cheddar and soy cream cheeses. Use water in place of milk.
The Illinois Food Allergy Education Association is a terrific food allergy news source and resource. http://www.illinoisfaea.org
Tips from Springfield Area Moms

Porter & Hazels Deli serves only Boars Head meats which are gluten-free and preservative free. West Jefferson Downtown, 744-3354. Free Downtown & Medical District Delivery. Super yummy! Very kid and allergy friendly due to they have child with allergies. Submitted by Joy Gresham.

Check out the following medical alert bracelet for kids who have severe peanut (or other allergies.) Log on to www.americanmedicalid.com. Submitted by Lisa Barutcu of Rochester.
"Our daughter is ten now and we found a new medical alert bracelet that is fashionable with the updated 'bead' look. A child really just wants to fit in with their peers and we have found this a small but helpful way for her to be stylish and still able to wear the alert bracelet!" Submitted by Coleen Koester.
"When dropping your child at new events, child care centers, church events or anywhere else they place a name tag on their backs, be sure to write peanut allergy in bold letters right next to their name and on sign-in sheets." Submitted by Christina Race.
Reference Websites
For the latest information and more recipes. www.foodallergy.org. This is the Food Allergy and Anaphylaxis Network (FAAN). As a member you receive two regular newsletters, one for grown-ups and the other for kids.
"I've recently developed a gluten and dairy sensitivity. When doing some research on what I can and can't eat, I came across your page. I wanted to let you know it was very helpful.   Interestingly enough, I can handle cream, butter and non-gluten grains just fine, thankfully.   I thought I could share another resource with you: http://www.healthline.com/channel/food-allergies.html. It's one of the better pages on food allergies that I've found with information on symptoms, tests and treatment on common food allergies like eggs, peanuts, dairy, fish and more."  Submitted by Christina.
"My daughter loves seeing the pictures sent in by other food allergic kids. The newsletter helps her feel less alone. At this website you can also sign up to receive allergy alerts by email. This service informs you when manufacturers make labeling mistakes and/or change their ingredients. As I learned from FAAN, teach your child not to ask, "Is this OK for me to eat?" but to say instead, "Is this SAFE for me to eat?" That way, the question won't be confused with things like snacking before dinner or eating treats that you haven't approved." Submitted by Heather Nifong.
Safe Treat Mixes

: "I am so grateful to have found a company that makes delicious egg free, nut free, dairy free and peanut free mixes for Chocolate Chip Cookies, Sugar Cookies, Chocolate & Yellow Cake, Chocolate & Vanilla Frosting. The best part, they are

so yummy,

everyone enjoys them! They do contain wheat and soy ingredients. You can get them at

www.cherrybrookkitchen.com

.  Ask your favorite grocery store to stock them!" Submitted by Kim Leistner

Soybutter & Sunbutter instead of peanut butter: "We have found "soy butter" a great sub for actual peanut butter, and you can use it to make "puppy chow" or "soy butter and jelly" sandwiches etc. and the frequent craft of a pinecone bird feeder." (Editor's note: Our family also uses Sunbutter which is made from sunflower seeds.)
Books on Food Allergies "I purchased a couple of children's books about allergies: Allie: the Allergic Elephant: A Children's Story of Peanut Allergies by Nicole Smith is a great one."  Submitted by Carolyn Harmon.