This post features LOCAL area and drivable destinations for haunted houses and hayrides with a wide range of scary!
Featured All Things Spooky Sponsors:
Boo Crew (Mechanicsburg, IL) 11083 Buckhart Road
Rated #3 Best Value Haunted Attraction in Illinois
On the hunt for a good Haunt? Boo Crew Haunted House is ranked in the Top 10 Haunted Houses in Illinois and ranked as a Top 5 scariest! Come out and see what our sinister minds have created for the 2017 season. WE are waiting for you!
Boo Crew Haunted House is owned and operated by the Rochester Lion's Club, which supports numerous charities throughout the area!
Dates of operation: September 30th, October 6-8; 13-14; 20-21 and 27-28 and November 4th
Children's matinee is Saturday, October 21st from 3:00 pm – 6:00 pm.

Admission is $7 per person/child. We will be giving away a free pumpkin to each child, while supplies last. This is a chance to go through the haunted house with the lights on and no scaracters and enjoy the trail. Best for kids and scaredy cats!
The main Ticket Booth is open from 6:30-10:00 pm on nights the haunt is open. Haunting starts at 7 pm. Admission is $15 for general admission; $25 for Speed Pass. Tickets include the "Trail of Lost Souls."

Scare Factor: Rated one of the scariest, but because of the varying "scare levels," it is possible to take younger children to this attraction. However, it's ​recommended for ages 10 and up, depending on the child. Family-oriented operation – many parents and children participate in this attraction! All proceeds from this attraction will go to area charitable causes from the Rochester Lions Club. For more information and to buy tickets at www.boocrew.com. Be sure to follow and Like us on Facebook, Twitter and Instagram!
Extreme Haunted Hayrides and Zombie Paintball in Riverside Park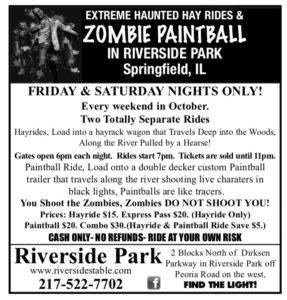 Located 2 Blocks North of Dirksen Parkway in Riverside Park off Peoria Road.
Friday and Saturday nights in October.
Haunted Hayride: Load into a hayrack wagon that travels deep into the woods, along the river pulled by a 1968 Cadillac Hearse. Tickets $15 Hayride, Express Pass $20 (Hayride Only)
Zombie Paintball. You shoot the zombies, zombies do not shoot you! Concessions, DJ, and bonfires nightly. Gates open at 6 p.m. each night, rides start at 7 p.m. and last ticket is sold at 11 p.m. Weather permitting. Paintball $20.
Combo of Hayride & Paintball Ride is $30- Save $5.
Cash Only- No Refunds- Ride at Your Own Risk
Scare Factor: May be scary for younger children, as the scenes can be a bit gory and monsters will sometimes get onto the hayride with guests. https://www.facebook.com/ExtremeHauntedHayrides/
Additional 2017 Spooky Attractions (by date)
Past 2017 Events
SPOOKTACULAR Evening with Abe

October 21, 2017 6:30 pm – 8:30 pm Register online FREE to Members or $10 per Family Open to the public, must reserve tickets ahead of time! Abraham Lincoln Presidential Museum The SPOOKTACULAR Evening with Abe is suitable for all ages and includes historical characters "haun

ting" the exhibit journeys, special eerie lighting and music, crafts and games! Live music with a DJ and snacks. Kids are encouraged to wear a costume. (Children must be accompanied by adults, no adult costume with hood/mask is allowed.) Are you a member of the Abraham Lincoln Presidential Library Foundation? Members are FREE!

For FREE Member registration or to purchase tickets ($10 per family) by

October

Or call 217-557-5589. Sponsored by the Abraham Lincoln Presidential Library Foundation

Dead 'n Breakfast (Chillicothe, IL). Located north of Peoria. A Halloween themed camping event that will entertain, thrill, and scare you all night long. This 13 hour event will consist of games, Halloween entertainment, and many surprising thrills and chills. 2017 date: Sept. 23 threesisterspark.com/dead_n_breakfast

Kamp Kaleidoscope Glows Family Fun Walk at 7:30 pm in Southwind Park, 4964 S. 2nd St., Springfield. 1.5 mile route. Registration includes glow goodie bag including glow sticks. 2017 Date: October 7.

Zombie Glow Golf at Overlook at Overlook Adventure Mini Golf, 2501 E. Nelson Park Rd., Decatur. Special miniature golf IN THE DARK. Wear your brightest colors. $7 ages 4-12; $10 ages 13+. 217-422-2316. 2017 Date: October 7. decatur-parks.org/event/zombie-glow-golf
Annual Bloomington Normal Zombie Walk (Normal, IL). Located about 70 miles north of Springfield in Anderson Park. Dress up in your best zombie attire and join in this family-friendly event. Starts at 3 p.m. 2017 date: October 7. Facebook event.
Evergreen Cemetery Walk (Bloomington, IL). Costumed actors portray individuals representing all walks of life from McLean County's past on the grounds of Evergreen Memorial Cemetery. This award-winning, nationally recognized interpretive program is often referred to as the "granddaddy" of all cemetery walks. Put on your walking shoes and bring your family to participate in this fascinating, outdoor theatrical program. 2017 dates: October 7, 8 / mchistory.org/participate/events/
Night at the Original Springs Hotel (Okawville, IL). Okawville is located about 107 miles south of Springfield of I-64 East. This event includes dinner for two, overnight accommodations at the hotel, history of the hotel and a ghost hunt. 2017 Date: September 30 / http://www.bumpinthenight.net/
Meet Jack Pumpkin Painting Class – 5:30-7:30 pm. Paint a large jack-o-lantern just in time for fall. You'll create a one of a kind pumpkin. These will be kiln fired and you will pick it up later. $45 at Chartruse, 229 S 6th St, Springfield. 2017 Date: October 4. / Facebook event.
Halloween Figures Art Class for Adults (Decatur, IL). At the Madden Arts Center. Paint your own witch, cat, bat, skeleton or Day of the Dead figure using a variety of wooden blanks and materials. Everyone will get three figures to paint. Set them on a table or mantle or add a screw in the top to hang on a Halloween tree. $20 per person; $17 for members. 2017 Date: October 5. / Register online.
Night at the Mineral Springs Hotel (Alton, IL). Alton is located about 85 miles southwest of Springfield, near St. Louis. Hunt for ghosts in a spot that's long been considered one of the most haunted locations in Alton. 2017 Date: October 6 / http://www.bumpinthenight.net/
Spooky Stories at Rochester Library from 6:00-7:00 pm featuring Mike Anderson – The Dulcimer Guy. A night of silly, spooky, funny, and thought-provoking stories and musical selections from Mike Anderson a.k.a. the Dulcimer Guy! Mike's performance will produce a little bit of a shiver and a lot of smiles for the whole family! No registration required. 2017 Date: October 10 rochesterlibrary.org
Creepy Critters Class at Urban Sassafras 9am -Urban Sassafras welcomes pre-school age kiddos (2 – 5) and their grown-ups for a morning of learning, art projects, bonding, seasonal snack, and fun! This month we'll celebrate all the spookiness of Halloween by creating owls out of pine cones, scary spiders and a hanging bat centerpiece. 2017 Date: October 14. urbansassafras.com/us-kiddos
Vampirina Web of Friendship Class for kids at Michael's. They craft; you shop! Kids 3 and up can enjoy making a fun photo mobile based from Disney Juniors® new series Vampirina®. Plus, free face painting. All supplies provided. . Sign up in-store, online or just drop in between 10 and noon. $2 per project, supplies included. Parent or guardian must remain on premises during the event. 2017 Date: October 14 classes.michaels.com/Online
Halloween Hoopla at Children's Museum of Illinois (Decatur, IL). Be sure to dress up for this fun event! 10 AM – 3 PM. 2017 Date: October 14 cmofil.org/
Witches Walk (Petersburg, IL). Put on your favorite witch costume and head out to the Petersburg Square, located about 30 minutes northwest of Springfield. Hours 10 a.m.-4 p.m. Get a punch at each stop for a chance to win prizes. 2017 Date: October 14 / Facebook Page
Night at the Morse Mill Hotel (Hillsboro, IL). Located about 50 miles southeast of Springfield. Check out this manor, which has actually been fled by seasoned ghost hunters. 2017 Date: October 20 / http://www.bumpinthenight.net/
Jack-O-Lantern Spectacular at Rees Memorial Carillon (Springfield, IL). Located in the Washington Park Botanical Garden. This popular event will feature over 2,000 wonderfully illuminated pumpkins on display all throughout the gardens and carillon. Food vendors, children's activities. Hours 6:30-9:30 p.m. Adult admission $7, children 4-11 $5 and free for children under 3. 2017 Dates: October 20, 21 / carillon-rees.org
Zoolie Ghoulie at Henson Robinson Zoo 1100 E. Lake Shore Drive. Safe trick-or-treating inside the zoo gates. Collect candy from stations set up around the zoo. Proceeds benefit the Springfield Zoological Society. 4-8 pm Friday; 1-5 pm Saturday and Sunday. $5/person; $4 for parents. 2017 dates: October 20, 21, 22. springfieldparks.org
Parent & Child Halloween Cookies Class at LLCC Spooky and fun cookie making class 9:30 am – 12:30 pm for an adult and up to two children. 2017 date: October 21. Event post.
Glow in the Dark Slime MAKEBreak at Michael's 1-3 pm. What's creepy, cool & glows in the dark? Add glitter and glow-in-the-dark beads to give your slime an eerie glow! All supplies will be provided, including pre-made slime, no purchase necessary. For ages 3 and up. No registration required, first come, first served, please arrive in enough time to complete project prior to 3 pm. 2017 Date: October 21
Spooky Stories at Prairie Skies Libraries – 10 am at Ashland and 1 pm at Pleasant Plains. Storyteller Mike Anderson will deliver the best in silly, spooky, funny and thought provoking stories and musical selections that will produce a little bit of a shiver and lot of smiles. 2017 date: October 21 / pspld.com/kids-programs
Halloween Figures Class (Decatur, IL) 10:30 am – 12:30 pm for ages 6-adult. Add paint and embellishments to wooden kokeshi blanks to make fun Halloween characters or ornaments! You'll paint your own witch, cat, bat, skeleton or Day of the Dead figure using a variety of materials. Everyone will get three blank figures to paint. Set them on a table or mantle or add a screw in the top to hang on a Halloween tree. This is a fun project for all ages! $25 per person; $20 for members. 2017 date: October 21. Register online.
Horror Fest at Pharmacy Gallery Movie Theater, 711 S. 5th St., Springfield. 7 pm – 8:30 pm. Three movies: The Fall of the House of Usher; The Black Imp; and Freaks. Admission $5 at door. Free popcorn. 2017 Date: October 15. Facebook page.
Scary Hour at Chatham Public Library at

6:30 p.m.

This program, designed for monsters 3rd grade and older, features very scary stories in the Library Gallery – if you dare! Ghouls and spooky creatures will be haunting the Library this evening. Please do not bring younger children to this program. Registration is not required. Come in cosutme! 2017 Date: October 19 www.chatham.lib.il.us
Witches' Night Out (Normal, IL). Enjoy sips, snacks and specials from a variety of participating Uptown businesses. Many retailers will be offering free samples of goodies and beverages along with their fantasic sale
s, while the restaurants and eateries will be offering specialty themed items for sale. 2017 Date: October 19 / facebook.com/events/171244936612946
Haunted Library at UIS Brookens Library. 2017 theme: Nightmares. 8pm-11pm. 2017 Date: October 20. / brookenslibrary.wordpress.com
Night of the Living Dead – Free Movie at UIS, part of the NPR Illinois Foreign and Independent Film Series. 7 pm in Brookens Auditorium at UIS. Free admission to all. 2017 Date: October 13 / Webpage.
Night at the Asa Talcott House (Jacksonville, IL). Join in the ghost hunt at this historic mansion that was part of the Underground Railroad. 2017 Date: October 13 / http://www.bumpinthenight.net/
Murder in Some Dumb Old House Murder Mystery Theater (Springfield, IL).

Guests at this murder mystery will

help the detective solve the crime. Working as a table, you 'll have the opportunity to hear the suspects' monologues and conduct two interrogations of the suspects. Will you be able to figure out "whodunit"?? 2017 Dates: October 13, 14, 15, 21 / https://www.edwardsplace.org/upcoming-events
Scareport, Run the Runway (Decatur, IL). 6:30-9:00 pm. Ready for take-off? This unique course can't be any flatter or faster! Lace up, dress up, and join the 1-mile Tot Trot, 5K or 10K run on the lighted runway! Prizes in all age divisions and awards for best costume. 2017 date: October 21 / decatur-parks.org/event/843/
Zombie Xtraction Laser Tag (St. Louis, MO). Located next door to The Darkness. Fight zombies in the Silo-X zombie haunted house. 2017 Dates: October 5, 12, 19, 26 / Zombie Extraction
The Hunchback of Notre Dame Silent Film with Live Organ (Bloomington, IL) Accompaniment by Dennis Scott at 7:00 p.m. Adult $15; discounts for veterans, seniors, youth and students. General Admission. At Bloomington Performing Arts, 600 N East Street, Bloomington. 2017 date: October 24 / www.cityblm.org
Paranormal 101 Class for Adults at Prairie Skies Library in Pleasant Plains. 6 pm. The Prairie Skies Public Library District will host Zitania with the Illinois Metaphysical & Paranormal Society. Zitania has had paranormal experiences all her life and been active in paranormal investigating for over ten years. Free, but registration is required. 2017 date: October 24 / pspld.com/adult-programs
Friendly and Slightly Scary Halloween Stories at Chatham Public Library. At 6:30, Friendly Halloween Stories, followed by a snack. For Slightly Scary Halloween stories, come by

6:45 for a snack followed

stories with a slight thrill. Both sessions are meant for little goblins through 2nd grade. No registration is required. Come in costume. 2017 Date: October 26. chatham.lib.il.us
Carter Brothers Haunted Hayride (Springfield, IL). Located about a half mile north of Dirksen Parkway, off of Peoria Road on the east side of the road. Take a bumpy, fast-paced and fun ride through the woods. Watch out for trolls and headless horseman! Location also has a "Halls of Terror" haunted house attraction. $10 for hayride, which includes haunted house. Concessions available. Hours 7-11 p.m. Get there early! Scare Factor: This hayride can be scary for smaller children, but it has a "sense of humor." 2017 Dates: October 6, 7, 13, 14, 20, 21, 27, 28 http://www.carterbroshauntedhayrides.com/
Terror on Washington Street (Clinton, IL). Located about 20 minutes north of Decatur. $10 general admission, $20 for a "rush in" pass, or $22 for a pass that will grant entry to the Clinton attraction and the Scream in Decatur. "Friendly Ghost Tour" will take place on October 14, 21 and 28 with the lights on for younger kids. 2017 Dates: October 6, 7, 13, 14, 20, 21, 27, 28 http://www.clintonhauntedhouse.com/hours.htm
The Haunted Infirmary (Bartonville, IL). Located in former Pollak Hospital. Bartonville is located outside Peoria. 2017 Dates: October 6, 7, 13, 14, 20, 21, 27, 28 / Click HERE for their Facebook page.
Haunted Paintball Park (Millstadt, IL). Millstadt is located about 105 miles from Springfield, southeast of St. Louis, MO. Grab a paintball gun, hop on the hayride and shoot some zombies. Hours 7-10 p.m. Scare Factor: Family friendly fun! All ages are welcome. 2017 Dates: October 6, 7, 13, 14, 20, 21, 27, 28 / http://hauntedpaintballpark.com/
Spider Hill (Chillicothe, IL). Located north of Peoria. Guests can go through the Massacre Mansion, the Haunted Express, Terror Trail and Zombie Invasion. After all the frights, check out the General Store. . Scare Factor: Kid-friendly activities available, check with attraction for specific age recommendations. 2017 Dates: Fridays and Saturdays in October. threesisterspark.com
Fright Night at Forest City (Forest City, IL). Located on the Manito Blacktop between Manito and Havana. This attraction features four different scary places – Camp Crystal Lake, The Raging Swamp, Skinner Barn, and The Dark Carnival in 3D. The Skinner House has been featured on A&E's "My Ghost Story." Concessions available. Different ticket options available. Call 309-597-2922 with any questions. Scare Factor: Children under the age of 8 must be accompanied by an adult. 2017 Dates: Fridays and Saturdays in October https://www.facebook.com/FrightNightForestCity
Haunted Woods of Creek Hill (Mt. Auburn, IL). Voted #2 in haunted houses on Haunted Illinois website. Located about 33 miles east of Springfield. Hours 7-11 p.m. 2017 Dates: October 7, 14, 21, 28 / Facebook page.
Boo at the Zoo (Decatur, IL). 71 S. Country Club Rd., Decatur. Safe Halloween family fun, costumes optional, 217-421-7435. 2017 Dates: October 13, 14, 15, 20, 21, 22, 26, 27, 28, 29 / scovillzoo.com

Pawnee Lions Club Presents: House of the Dead – Haunted House. $5 Admission. Time: 6PM – 10PM at Boy Scout Hall – 623 7th St. Pawnee. Kids 10 and under must be with an adult. 2017 Dates: October 13, 20, 27.

Halloween Percussion Concerts (Decatur, IL). 7:30 pm Thursday and Friday concerts at 6 pm and 8 pm. $8/person at Kirkland Fine Arts Center. 2017 dates: October 26, 27. millikin.edu/kirkland/event
Muni Mayhem 7-10 pm. Haunted maze, spooky performances three times a night, and more. 2017 dates: October 26, 27, 28. Facebook event.
Preschool Halloween Stories at Chatham Library 10:15 a.m. It's Hallo-scream! Preschoolers are encouraged to come dressed in their costumes for the library's regular Storytime to hear fun Halloween stories and complete a Halloween craft. 2017 date: October 27
Monster Mash at Erin's Pavilion in Southwind Park, Springfield. 7-9 pm. Come dress up in your Halloween costume and dance the night away with a live DJ! It's FREE for individuals of all abilities. 2017 date: October 27
Halloween GLO Bingo at Sangamon Prairie Reception Center, 8855 IL-4, Chatham. 6-9 pm. Play bingo with glo accessories & glo dauber. Light snacks and food available; cash prizes. 2017 date: October 27. Facebook event.
Freaky Friday Fright Night (Bloomington, IL). 7:30-9:00 pm at the Pepsi Center, 201 S. Roosevelt, Bloomington. Receive a free "glow" necklace with each paid admission so you can "glow" while skating in the dark. Don't forget to wear your Halloween costume! Door prizes, candy, music and lots of fun! A freaky, spooky, but cool place to be! 2017 date: October 27 / cityblm.org
Haunted Illinois Wine & Ethnic Foods Festival featuring Illinois wine plus ethnic foods and music! Wear your Halloween costume and join in the fun! 2017 dates: October 27, 28. Friday 6 – 10 pm and Saturday 11 am – 7 pm. At Ethnic Village, Illinois State Fairgrounds, Springfield. Facebook page.
Night at the Old Funeral Home (Jacksonville, IL). Located about 30 miles west of Springfield. 2017 Date: October 27, 28 / http://www.bumpinthenight.net/
Ghoulish Feast Parent & Child Class at LLCC 9:30 am. Prepare a Halloween-themed meal with fun surprising ingredients. Parent and child work side by side. 2017 Date: October 28 Event post.
Vampirina Treat Bag class at Michael's. They craft; you shop! Kids 3 and up can enjoy making a treat bag themed around Disney Junior's® new series Vampirina®. Plus, free face painting and wear your costume and join our trick-or-treat parade! All supplies provided. Sign up in-store, online or just drop in. Supplies included. Parent or guardian must remain on premises during the event. $2. 2017 Date: October 28. classes.michaels.com/OnlineClasses
Zombie Fun Run 5K Ever wonder what it's like to survive a zombie apocolypse? Well, we can't promise you bunkers and food rations, but we can try for the next best thing! Enjoy a rain or shine run through Washington Park as you dodge zombies that are ON SKATES! The run will start bright and early at 9am. Runners AND zombies are welcome! 2017 Date: October 28. Facebook event
Goosebumps Organ Concert and Electronic Light Show (Springfield, IL). Held at the First Presbyterian Church at 321 S. 7th St. (Lincoln's Church). A combination of organ music, eerie lighting and dance will make for a spooky night of entertainment. Dress in all black or all white. Free, donations welcome for Salvation Army. 2017 date: October 28. / lincolnschurch.org/worship
Halloween Party at Pleasant Plains Fire Protection District 4-6 pm at Pleasant Plains Community Club, 206 West 4th St., Pleasant Plains. Join the Pleasant Plains Community Club as they host their annual Halloween party at the community building. Come in costume and enjoy hot dogs, donuts, chips and refreshments compliments of the Pleasant Plains Fire Department. Facebook event.
Halloween Parade in Petersburg at 4:30 pm. 2017 Date: October 28. / Facebook event
Fairy Tale Time: Halloween Creation (Decatur, IL). 9 am at Poage Arts & Recreation Center, 2020 N. Oakland, Decatur. For ages 3-6. Explore classic fairy tales one story at a time and then have fun recreating each story with basic props and costumes! $8/person. To register, call 429-3472, 2017 Date: October 28. decatur-parks.org
Halloween Glow Golf at Overlook at Overlook Adventure Mini Golf, 2501 E. Nelson Park Rd., Decatur. Special miniature golf IN THE DARK. Wear your brightest colors. $7 ages 4-12; $10 ages 13+. 217-422-2316. 2017 Date: October 28. / decatur-parks.org/event/halloween-glow-golf
Zoo Spooktacular at Miller Park Zoo (Bloomington, IL). 5-8 pm Saturday and noon to 3 pm on Sunday. Show off your Halloween costume and enjoy crafts, up-close animal encounters and of course, candy! Free with zoo admission. 2017 dates: October 28, 29. parks/Miller-Park-Zoo/upcoming-events
Hoogland's Halloween Carnival noon to 4 pm with costume contests. Bigger and better than ever! 2017 dates: October 28-29 Event post here.
Halloween Family Carnival at the Hoogland noon to 4 pm. 2017 dates: October 28, 29 / event post