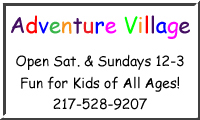 Adventure Village Amusement Park,on the Illinois State Fairgrounds
July 16, Noon – 3pm
Adventure Village is hosting a special food drive to help the St Martin DePorres Center in Springfield.
On Saturday,July 16th if you bring two or more nonperishable food items per person to Adventure Village, we will sell you a "Ride All You Want" wristband that will be good from Noon to 3 PM for $5.00 each.
For all other days of the summer, Buy one wristband at $15 and get one FREE! Come out for the fun, and enjoy this special from June 19th through July 31, 2011.
Pin It