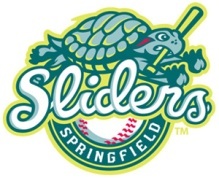 The boys of summer are on their way back!  And they are looking for a home. Springfield Moms is proud to be a sponsor of this fun, family friendly summer activity again this year.
The Springfield Sliders are seeking sports oriented families to host college baseball players for the summer. It's an excellent way to be part of the Sliders organization and establish relationships with future stars of the game.
Host families generally have one or more players living with them starting on May 25th, or depending on how long their semester runs and/or their college team's performance. Players then depart upon the completion of the season in the second week of August.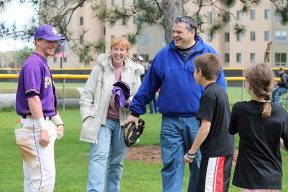 Springfield Moms Director of Editorial Julie Kaiser and her family hosted catcher Sean Finucane in 2009 pitcher Patrick Gannon in 2010, and shortstop Dan Douglas and first baseman Sean Gerber last summer. "We've had so much fun hosting these guys," Julie says. "We watch a lot of baseball, and the kids love having a 'big brother' around. These are quality guys, and they are easy to have around. We just visited Dan and Sean the first weekend in May at the University of Stephens Point to watch them play. We became good friends with their families as well. It's always hard to say goodbye at the end of the summer, but we look forward to hosting again this year."
The Sliders enter their fourth year in the Prospect League and the host family program. Players will be traveling to Springfield for the summer from all across the country. If you're interested in becoming a host family for the 2012 season, contact John Dittrich, VP and general manager for the Sliders for more information at 217-679-3511 or by email here.