212 N. Sixth St., Springfield, IL 62701
217-558-8844
PLAN YOUR VISIT TODAY!
Museum Hours:
9 AM-5 PM DAILY (Last ticket sold at 4pm)
Closed on Thanksgiving Day, Christmas Day & New Year's Day only
Visit our Facebook page to see what people are saying about their visits
"Adults and children alike will love coming back time and again to enjoy the vast array of historical exhibits and thought-provoking questions that will arise each time you visit."
"This museum was entertaining for our family, including teenagers and small children!"
"My 9th field trip to the museum but it's always fascinating and interesting. Love to see the kid's reaction in the theaters."
Our newest exhibit takes you inside the historic rivalry between the Chicago Cubs and St. Louis Cardinals. Visit the Illinois Gallery to see gloves, jerseys and bats used by legends of the game. Find out whether your community leans Cardinals or Cubs. Test your knowledge of the teams and take some swings in a home-run derby game. Join us throughout 2017 for special events that explore this legendary rivalry and its unique place in Illinois culture.
Mascot Day, Evening with the Creators, Youth and Family Activities, All-American Picnic/Movie in the Park, ESPN Baseball Analyst Tim Kurkjian, Author and Historian Talmage Boston, and MUCH MORE!
$1 Off Admission

Show this coupon on your smartphone or print to receive $1 off regular-priced admission for everyone in your group to Cubs Vs. Cardinals: The Rivalry Exhibit at the Abraham Lincoln Presidential Library & Museum. Plan your visit at www.PresidentLincoln.Illinois.gov

Valid until Dec. 31, 2017

Not valid with any other offer, promotion, or discount. Offer has no cash value. Other restrictions may apply.

Promo: Mom
Make Learning Fun! Civil War Tech Program and Mrs. Lincoln's Attic Indoor Play Room
The Civil War Tech series is a FREE program made possible thanks to generous support from AT&T.
Civil War Tech for Children ages 8-12
We merge science and history through experiments, artifacts, games, and presentations from scientists, scholars, and ALPLM exhibits. Students will be inspired to think critically about the impact Civil War technology had on our nation's greatest conflict as well as how it affects us today. Very interactive and fun!
Civil War Tech for Teachers
Three different programs offered for teachers. Pick the one that best fits your needs. All programs are offered free of charge thanks to support from AT&T.
Civil War Tech Classroom Connections The ALPLM Classroom Connections program allows teachers to add a hands-on experience to their visit to the museum. Available for homeschool and youth groups as well.
Civil War Tech in the Classroom Civil War Tech programs on Railroads, Telegraph, Ironclads, and Submarines are available to travel to classrooms within a 50 mile radius of the museum.
Teacher Professional Development Programs Spend a morning at the ALPLM learning about different topics featured in Civil War Tech and discover ways you can share that content with your students.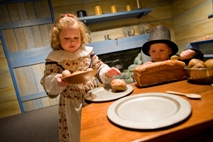 A Fun time will be had in Mrs. Lincoln's Attic!
Cook a meal in a log cabin, dress up like President Lincoln and his family and friends, and play the same games the Lincoln boys would have played in Mrs. Lincoln's Attic. The hands-on area is the perfect place for young visitors to explore Mr. Lincoln's life through play. Included with Museum Admission.
FAMILY MEMBERSHIP…THE BEST WAY TO ENJOY THE MUSEUM!
Join the Abraham Lincoln Presidential Library & Museum Foundation for year-round savings for your family. At every level, starting at $75, members enjoy free Museum admissions at every visit. That's right! When you become a member, you will not have to worry if the kids will make it through a long visit…..come back daily if you would like! For families seeking regular cultural activities, the best deal may be the $125 Family Plus membership, where you'll receive six free admissions every visit -plus entry to an annual family events like Spooktacular. Learn more