212 N. Sixth St., Springfield, IL 62701
217-558-8844;  800-610-2094
Museum Hours:
Monday - Sunday 9:00 a.m. to 5:00 p.m.
Last admission is at 4:00p.m.
Closed on Thanksgiving Day, Christmas Day & New Year's Day only
What an honor to have this world-class library and museum in the heart of Downtown Springfield. Adults and children alike love coming back time and again to enjoy the vast array of historical exhibits and thought-provoking questions that will arise each time you visit.
In 2015, the Abraham Lincoln Presidential Library and Museum honored the 150th anniversary of Lincoln's assassination as well as other historic events and marked the 10-year anniversary of our campus. See the event listing here!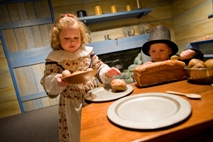 Rainy Day? Bring the kids in to Mrs. Lincoln's Attic to play indoors.
Join the Abraham Lincoln Presidential Library & Museum Foundation for year-round savings for your family. There's never been a better time to support the "Center of Gravity for All Things Lincoln" through an Abraham Lincoln Presidential Library Foundation membership!  At every level, starting at $75, members now enjoy free Museum admissions at every visit. That's right! When you become a member, you'll get a bevy of benefits, including free admissions. For families seeking regular cultural activities, the best deal may be the $125 Family Plus membership, where you'll receive six free admissions every visit -plus entry to an annual family event. Learn more here.