Supporting Greater Springfield Area Families Since 2004
Don't let the name fool you…there's something for everyone on Springfield Moms, and it's FREE! Founded and run by local moms who live here to provide quality content 24/7. Our goal is to save you time and energy and improve your quality of life in the Greater Springfield IL.
Then: In November 2004, Kim Leistner Root, a local mom grew tired of not being able to access local area events and resources for her family in one convenient and current website. She shared these resources online with her friends, who told their friends and worked tirelessly to promote the FREE website to area families. A lot happens in twelve years!
Now: Springfield Moms is an extensive online resource network for families with kids of all ages (from birth to college-bound.) We're the reliable resource for events, timely resources, LOCAL coupons and much more! Seasonal guides, summer camp, day trip and neighborhood garage sale guides provide something for everyone. Check out our most popular pages and our A-Z Index to see why readers come back again and again!
Site Audience Summary March 1, 2016- March 31, 2017
Sessions 181,625 (26% growth)
Page views 416,921 (24% growth)
Pages visited per Session 2.30
Average Time per session: 2.01
We reach decision-makers in the Greater Springfield Area! Learn more about our Reader Demographics.
We have one of largest and most active Social networks in the area and we grow organically EVERY week!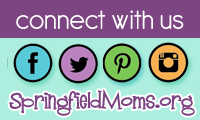 Facebook: More than 10,270+ follow our daily status updates, articles, events & registration reminders.
Email Updates: 3,850+ receive our bi-monthly e-updates in their Inbox. 27% Click Rate! Sign-Up here.
Twitter @springfieldmoms 1,775+ follow our status updates, ad, coupon and event promos.
Pinterest page with boards of Springfield Moms related tips & Instagram page
Media Segments: WNNS 98.7 FM , Moms Visits on WDBR 103.7 FM, the Wolf 101.9 FM, FOX Illinois Good Day Marketplace, Featured in SO Springfield's Own Magazine, Capital City Parent and Springfield Scene Magazine. Voted Best Local Blog for 4 Years SJR Reader's Choice & Runner-Up Best Local Website.