Supporting Greater Springfield Area Families Since 2004
Don't let the name fool you...there's something for everyone on Springfield Moms!
In November 2004, Kim Leistner Root, a local mom with a 2-year old and a 9-month-old, grew tired of not being able to access local area events and resources for her family in one convenient and current website.  She started an email newsletter with tips and upcoming events and emailed it to 30 of her friends.  A lot happens in twelve years.
Springfield Moms is now an extensive online resource network for the Greater Springfield area for families with kids of ALL ages (from birth to college-bound) and serves as the area's go-to website for What's Happening! Many thanks to the readers, contributors, and amazing staff and volunteers that have been part of this journey.
Current Reach: Last year through November 2016, we welcomed more than 143,600 sessions, 85,931 users viewing more than 328,000 pages of content. Our content rich site averages 2.29 pages viewed per visit. Averaging 2:01 minutes per guest reaching guests from all of the cities and a 60-mile radius.


We're a LEADER in Digital Marketing and have one of the largest networks of  Social Networks and Social Media Engagement in Central Illinois.

Facebook: We are the area's go-to LIKE! More than 9,980 "Like Us" for daily status updates, article links, coupon and event reminders, and sponsor contests/promotions.

E-Updates:  Reach more than 3,800 local area families in the know on the latest new articles, event reminders and coupons. View our E-Update archive.

Twitter @springfieldmoms 1,770+ follow our status updates, ad, coupon and event reminders

Pinterest page with boards of Springfield Moms related tips & Instagram page
Media Segments: WNNS 98.7 FM , Monthly Moms visits on WDBR 103.7 FM, the Wolf 101.9 FM, FOX Illinois Good Day Marketplace, Featured in SO Springfield's Own Magazine, Capital City Parent and Springfield Scene Magazine.
We reach the decision makers in the Greater Springfield Area!  Learn more about our Reader Demographics.

Voted Best Local Blog for 4 Years SJR Reader's Choice & Runner-Up Best Local Website.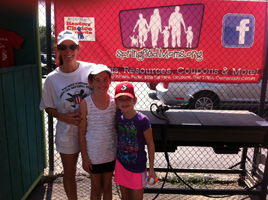 Advertise with us to reach our readers who rely on for the latest event reminders, resource articles, coupon links and day-to-day happenings to keep everyone inspired and laughing!