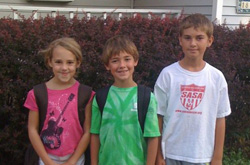 Still trying to wake up to the fact that school is here? Thanks to contributor Sarah Chandler for posting about the importance of routine. It's not just for the little ones either!  We all benefit from a well-thought out routine, especially this time of year.  Enjoy her tips here. 
As I fumble for the off button on my alarm clock on a Monday morning, its blaring beep reminds me once again that we have said good-bye to summer and hello to school days. Summertime threw us out of a set schedule (to be expected), but as school hours dictate, we are back to a routine to keep the children rested and give structure to our family.
To set the stage for a potentially great day, we put in a little extra work the night before. Homework is done, backpacks packed, lunch menus checked and shoes located. I don't know how many times misplaced shoes have been the course for panic at morning bus time! As the season begins to turn cooler, we'll be flipping on the weather channel to check the forecast to help us pick out the appropriate clothing and jackets the night before.
The bedtime routine is pretty important for my first grader as well. Even though he complains that "It's still light out," and "I'm not ready to go to bed," if bedtime does not happen by 8 o'clock, his 6:30 am wake-up nudge by Dad is not a good one. I can't blame my son for being super tired because he spends 7 hours a day learning and playing at school, and being attentive and good for that long is bound to wear a person out! And some children have an after school activity to attend. For us, it is soccer 2 days a week, which adds another couple of hours of running onto his already tired body. Yes, a reasonable bedtime is a crucial component to a successful day.
When the alarm sounds in the morning, the school day routine begins…getting dressed, eating breakfast, brushing teeth, putting on the found shoes, and hugging the dog…all with five minutes to spare to get to the bus top by 7:10 a.m. While my son is at school, I complete tasks at home that are easier to do with only my daughter underfoot.
The school bus returns to our stop at 3:06 p.m. My hot and sweaty boy climbs down the big bus steps ready for his favorite afternoon routine—snack time. During his snack, we talk about his day and go through his backpack. If he has any homework, I sit with him as he completes it. First grade homework only takes 20 minutes to finish, but if it is taken care of early in the evening, he has the rest of the night free to play and relax. A few weeks into the new school year, and this is proving to work out well.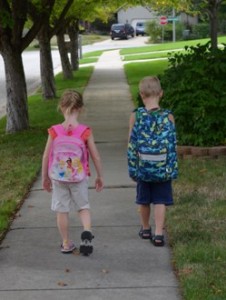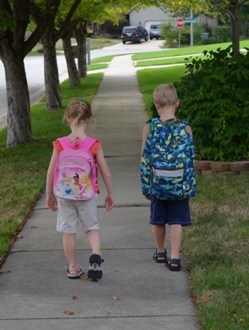 Creating a routine that fits your family may take some effort, but the rewards you will reap will be well worth it!
Sarah is a Springfield native, wife to Jeff, and mom to Levi and Anne. She loves to be outdoors during all seasons and enjoys relaxing indoors by creating quilts and scrapbooking.