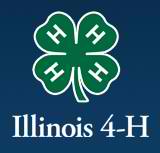 Springfield Moms contributor Jenn Clark shares below how 4-H continues to be an important and popular program for young people in central Illinois. Maybe your child would benefit from joining a 4-H club where members strive to "to make the best better."
Jenn writes: "One draw for my children to live so close to an agricultural community is the opportunity to be a farm kid through 4-H in spite of their parent's agricultural limitations. To our surprise and delight, we have discovered 4-H is not just for country-loving kids. As noted on the website for University of Illinois 4-H Extension serving Logan, Menard and Sangamon Counties, "4-H is open to boys and girls ages 5-18 regardless of religious, ethnic, economic and social background. 4-H can be found in rural and urban areas. It helps develop leadership skills and is a fun opportunity to learn new skills." Indeed developing leadership skills is a key benefit to being involved in 4-H."
As a member of a club, young people meet approximately once a month. They will choose a project (following specific guidelines set forth by 4-H) and then work with adult experts to fulfill the requirements for their projects. At one time, projects were almost exclusively related to agricultural experiences. Now a member can complete projects in:
Animal Science (including dogs and cats)
Cloverbuds (for children 5 to 7 years old)
Community Involvement and Global Awareness
County Projects including Engineering and Technology, Environment and Natural Resources, Food Nutrition and Health, Home and Family, Personal Development and Plants and Soils.
For more information about these areas of interest, visit the 4-H State wide office website or the Sangamon County 4-H website.
4-H members are ages 8-18. They can enter in and show a variety of projects. There are a variety of other fun activities available, including camp, conferences, and competitions. 4-H leaders are adult volunteers who lead clubs. They can be parents, grandparents, relatives, or people who simply enjoy working with youth.
The 4-H program has more than 800 members in community clubs, and is expanding within the metro Springfield area. Its members pledge to dedicate: "My Head to clearer thinking, My Heart to greater loyalty, My Hands to larger service, and My Health to better living, For my club, my community, My country and my world."
For Jenn's kids and others, 4-H offers not only the personal benefits of learning and loyalty, but involvement in community programs like 4-H helps in college applications as well as future job training opportunities. It lays a fun foundation for being service minded and provides useful outlets for children's varied interests.
Information about membership and meeting times can be gathered at your local Extension Office listed below.
Main Office (Sangamon County)
2501 North 8th Street
State Fairgrounds #30
Springfield, IL 62702
Phone: 217-782-4617
FAX: 217-524-6662
Hours: Monday – Friday 8 am to 4:30 pm (Closed 12 – 1 pm)
Branch Office (Logan County)
980 N. Postville Dr.
Lincoln, IL 62656
Phone: 217-732-8289
FAX: 217-735-5837
Hours: Monday – Friday 8:30 am to 4:00 pm (Closed 12 – 1 pm)
Branch Office (Menard County)
420 S. 7th St., PO Box 138
Petersburg, IL 62675
Phone: 217-632-7491
FAX: 217-632-2425
Hours: Monday – Friday 8:30 am to 4:00 pm (Closed 12 – 1 pm)
Submitted by Springfield Moms contributor Jenn Clark who is a Petersburg mom of two.